25 Apr

Best Playgrounds in Adelaide

Adelaide has loads of fun, clean and safe playgrounds, perfect for an afternoon play with the kids. They're so good – we thought we'd make a list! Here are the best playgrounds in Adelaide…
Glenelg Foreshore Playspace
Right at our door step you'll find the Glenelg Beach Playground. This awesome playground has seaside views, a giant sand pit, water play, trampolines, climbing ropes and loads more! This $1.3 million playspace opened up in early 2016 and is clean, fun and beautifully designed with lots of natural materials. The best part about the playground is its visibility and space for you to sit and keep an eye on the kids – not to mention the beach a couple of meters away!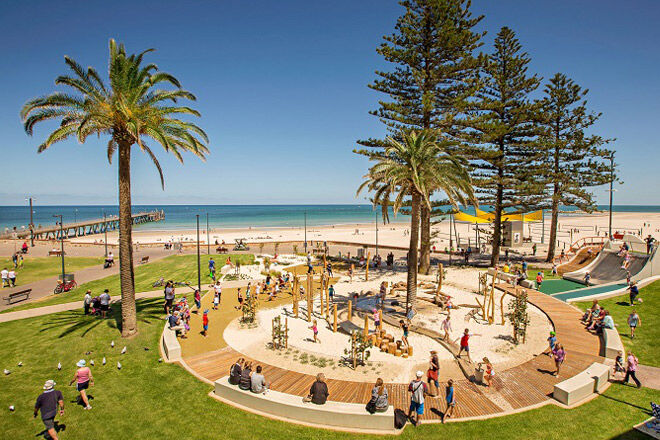 Marshmallow Park
This playground is particularly good for toddlers. It's located on Glen Osmond Road and with a name like Marshmallow Park – it's filled with plenty of fun! The park has numerous structures designed and built to develop your child's balance, coordination and stability. The park is fully fenced, has shaded areas, a toilet, BBQ facilities and plenty of bench seats and tables.
READ: How Playgroup Improves your Child's Coordination, Balance and Creativity
Bush Magic Playground
This much loved playground has been around for many years. Using the maize to play hide and seek is a popular feature of this playground. There's plenty of frames, tunnels and structures for kids to climb and explore. The structures are covered in safety rubber and the flooring is safe and soft too. Our favourite part of the playground is the see-saw swing! Bush Magic playground is great for toddlers and open anytime.
Wigley Reserve Playground
Located by the Glenelg Marina and not too far away from 'The Buffalo' ship,  you'll find Wigley Reserve Playground. The playground has a cool nautical theme – fitting for the location. There's a bouncing dolphin,  baby swings and plenty of pirate inspired climbing areas. The playground's stand out feature is a bright yellow boat placed on springs which is always a popular play space. The reserve is close to Jetty Road and pubs like The Watermark for a feed or drink after your play.
Civic Park Playground
A gem of a playground for families in the North! The Civic Park Playground re-opened almost a year ago in May last year after the 20 year old playground had a re-vamp. This park is now the perfect spot for family friend catch ups and play. The playground has three play zones, a massive rope swing, climbing frames and a three-storey play unit. Our favourite feature is the sound and music elements for kids to explore. There's BBQ facilities for families to whip up a barbie too.
If you're looking for any indoor play area – come to The Beachouse. We offer playgroup sessions for mums and bubs, a play castle for toddlers and plenty more fun and games for all ages!